Matthieu Vandenhende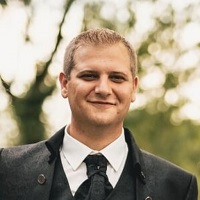 Matthieu Vandenhende
PROFILE
Skills
Backend Development
.NET, c#, Azure, .Net core
Frontend Development
ASP.NET, vuejs, Javascript
CERTIFICATIONS
Microsoft® Certified Professional Developer
Microsoft® Certified Technology Specialist
Certified Professional Scrum Master
RECOGNITIONS
Microsoft Most Valuable Professional (MVP) during 3 years
Microsoft Extended Expert Team
LANGUAGES
I am passionate about computer technology and have successfully developed several applications and I work at keeping up to date with new technologies. I am a certified Windows developer and have followed projects through the whole software lifecycle. I help the community and receive the Microsoft MVP title several times. I work well in teams, learning from other developers and am also happy to share my skills and experience.
PROFESSIONAL EXPERIENCES AND SIGNIFICANT ACHIEVEMENTS
.NET Developer
At myShopi I mainly work on the backend side. We use technologies like kubernetes, docker, .NET core, graphQL. I also work on frontend technologies with mainly ASP.NET and vuejs.
Performance Analyst
Performance analysis and debugging for a drupal CMS hosted on a Kubernetes cluster.
.NET Developer & Technical architect
My role at Agilys was first to create the windows & windows phone app of myShopi. After that I worked mainly on the website in ASP.NET and on the Azure infrastructure with service bus, queues, storages, SQL databases to make the back offices and webservices efficient and maintainable… We always worked with up to date technologies. Now I'm also Scrum Master in a team of 8 developers.
Creator & Organizer
I like events where you can learn new things and have fun with crazy speakers and to improve the community in Belgium, I create an event with 3 friends to make our dream event. We begin with a small group of people and now we have about 300 developers on 2 tracks. Team spirit and organization are the main words to make this events successful.
Internship as a developer
Microsoft Innovation Center Mons
2011
For my internship I developed Windows Phone 7 applications.My project was a Windows Phone 7 application generator, I created a WPF application that automatically generates applications based on Excel spreadsheets.I used technologies like SharePoint, Excel Services, Web Services and REST api.
ACADEMIC BACKGROUND
Bachelor's Degree in Computer Science
Haute-Ecole Louvain en Hainaut, Mons
2008 – 2011
CEES in Computer Science
Saint-François des Sales, Ath
2006 – 2008
CEE of the 2nd degree in Math-Science
Saint-André, Ramegnies-Chin
2002 – 2006